<hero description="Hiatus is over! Updates have started again!" imagename="Wikia-hero-image" cropposition="0" />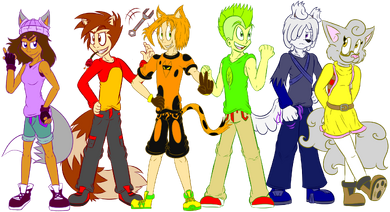 Cheetah Kid! now has a new update schedule! 3 updates a week!
Tuesday:
Thursday: Suddenly Distant Explosions
Saturday: Heroes At The Ready
What's This About?
Edit
Cheetah Kid! is written by Mason Hardison.
Cheetah Kid! is about the life of a half human/ half cheetah Enropian, (a human and anthropomorphic crossbreed) named Kent Dendega, who is thrown into becoming a government hero. He eventually befriends many interesting people, who eventually to form a group of heroes to kick tail and chill or whatev'z. The comic falls into the "action/drama/comedy/fantasy" category. It is divided into story arcs (or chapters) of a large portion of Kent and his friends and foes lives. Though the comic is very light hearted a lot of the time, it also contains very deep, dark, and emotional topics that come with the life of being a hero.
The comic regularly updates on Saturdays, but due to recent computer issues updates have been put on hold.
Latest activity
Edit
Photos and videos are a great way to add visuals to your wiki. Find videos about your topic by exploring Wikia's Video Library.